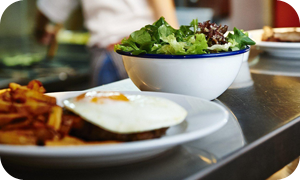 Sport and proper nutrition are considered to be the key to achieving high results.
Do you manage to eat correct after training? Have you thought about it? We have already thought about it for you and built «Lions Cafe».
In our cafe dishes are cooked of quality products and without the use of various nutritional supplements. «Lions Cafe» has a cozy interior, here you can always relax after active sports, discuss the bright moments of training with friends or just relax away from the city bustle. Any dishes from the cafe will be carefully packed so that you can take them with you at your request. In our assortment there is always a home-made confectionery.
And also in case you have taken your family with you, the children will be treated with something delicious. Everyone will be able to taste something savoury and could not help but be interested in our cuisine.
"Lions Cafe" welcomes its morning visitors at 7 a.m. to offer them a hearty breakfast which surely will give all the energy they need for a challenging day!
The breakfast recipes are varied, but they all are similar in one thing: breakfasts should be quite hearty, and all sorts of breakfast must be useful! And of course everyone loves delicious breakfasts! But, if you cook the same breakfast every day, even if it is a delicious breakfast, it can get bored.
Therefore, we advise you to improvise, to surprise and to delight yourself and your loved ones, and we will help you with breakfasts for every day. Breakfasts in our cafe are prepared in a matter of minutes, and eaten even faster.
Our breakfasts is a great alternative to sandwiches, a great addition to any hot dishes and a snack on the way.
We do the best for you, and you enjoy with us!